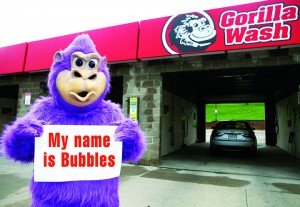 The votes have been counted, the people have spoken and the community has determined that the unnamed gorilla that has represented Gorilla Car Wash for more than 30 years is … a GIRL!
The decision to identify the gorilla as a female came as the result of the first phase of a contest recently launched by Gorilla Car Wash and The Daily Nonpareil to determine the gorilla's gender and to recommend potential names for the gorilla.
The top six recommended names for the female gorilla are, in no order of importance, Bubbles, Gloria, Gracie, Priscilla, Sparkle and Suzy. In the second phase of the contest, which starts today, the community is being asked to select one of those six names as the gorilla's eventual name.
To have a say in what the gorilla's name should be, readers are invited to go towww.nonpareilonline.com/namethegorilla and vote for one of the six names selected as finalists. Participants in the contest will be allowed to vote one time a day every day until the voting closes on Thursday, Oct. 2 at midnight. The gorilla's name will be announced on Sunday, Oct. 5, in The Daily Nonpareil.
Once the gorilla's name has been determined, there will be a drawing from among the participants who voted for the winning name. The winner of that drawing will receive a one-year pass for unlimited "Deluxe" car washes. In addition to the top prize, more than two dozen participants will receive free car washes, all courtesy of Gorilla Car Wash.