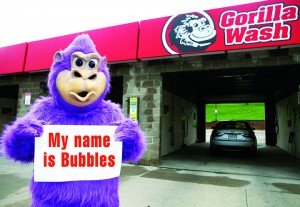 On Friday, Jeff Ballenger, owner of Gorilla Car Wash announced that the company's mascot, a friendly faced gorilla, now has a name – Bubbles.
"We're excited that our gal finally has a name," Ballenger said. "It's been a long time in coming."
The gorilla had gone unnamed since becoming the company's mascot more than 30 years ago.
The decision to name the gorilla Bubbles came about as the result of a "Name the Gorilla" contest sponsored by Gorilla Car Wash and The Daily Nonpareil. Contest participants selected the name "Bubbles" over the other five names recommended in the first phase of the contest by a margin of nearly two to one.
The grand prize, a year's worth of free car washes, was awarded to Alley Brown, of Council Bluffs. Her name was selected from among all those who had voted for the name "Bubbles." Twenty-eight other individuals were received free car washes for participating in the contest. Ballenger had earlier indicated that the company's mascot would become more involved in community events once it was named.